09.17.12
Welcome to the information page for Scott Nicholson's work on Games in Libraries.    This page is an archive of the work that was done from 2007-2011 on the topic of Games in Libraries through the Library Game Lab of Syracuse.   This game lab has now transformed into Because Play Matters, and you can find up-to-date information on that site.  The goal of Because Play Matters is to create transformative games and play for informal learning spaces, so while this does include libraries, it is a broader focus than that of the Library Game Lab.
Gaming in Libraries Course
In 2009, Scott Nicholson taught a one-month Gaming in Libraries course for Syracuse University's School of Information Studies.   This course consisted of 30 videos that were released via YouTube.  It created a space where library students, librarians, and gamers came together to discuss and learn more about how games can be used in libraries.  Thousands have viewed the videos from this course over the years, but the original YouTube videos were deleted from Syracuse's account. The course, and a paper that Dr. Nicholson wrote about the course called "Inviting the world into the online classroom: Teaching a gaming in libraries course via YouTube. Journal of Education for Library and Information Science, 51(4)", resulted in an innovation award for 2011 by ALISE and a best conference paper award.
Scott has reloaded the videos so that those interested in gaming in libraries can continue to learn from the course content.  The easiest way to watch the course is through the YouTube Gaming in Libraries Course Playlist  where you can view all of the videos or just one at time, or you can watch them right here:
Everyone Plays at the Library: Creating Great Gaming Experiences for All Ages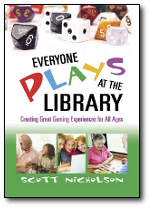 This book, published by Information Today, contains guides, frameworks, reviews, and tools for any sort of library wanting to use a variety of games in their programs.  Gaming in libraries can be more than video games and teenagers, and this book guides libraries to creating the best gaming program for their needs.   It helps librarians start with the goals of their library and move into creating engaging experiences that can be assessed back to those goals.  A sample chapter is available  and the book can be ordered through Information Today in print and e-book formats.
Articles about Gaming in Libraries
During the years, Scott wrote a number of articles about gaming in libraries.  He was a regular columnist for Digitale Bibliotheek on the topic.  Most of these writings are available online:
Nicholson, S. (2011). Crossed Paths. (A free interactive storytelling game for libraries or schools). Originally created for the talk, Engagement through Games: Reaching Library Users through Playful Ways. Keynote for 2011 Minnesota Library Association annual conference. Duluth, Minnesota.
Nicholson, S. (2011). Making the Gameplay Matter: Designing Modern Educational Tabletop Games. Knowledge Quest 40(1). 60-65.
Nicholson, S. (2010, Nov. 11). Board Game Starter Kit:  Intergenerational Gaming Collection for Under $200. Booklist Online Feature Article.
Nicholson, S. (2010). Join the U.S. National Gaming Day @ Your Library. Digitale Bibliotheek 2(6).
Nicholson, S. (2010). Gaming and literacy: Exploring the Connections. Digitale Bibliotheek 2(4), 42.
Nicholson, S. (2010). Scratch the gaming itch. Digitale Bibliotheek 2(2), 42.
Nicholson, S. (2009). Library Gaming Experiences on a tight budget. Digitale Bibliotheek 1(7), 23.
Nicholson, S. (2009). Creating a Gaming experience in Libraries. Digitale Bibliotheek 1(5), 11.
Nicholson, S. (2009). Why gaming? Digitale Bibliotheek 1(1), 17.
Nicholson, S. (2009). Library Gaming Census Report. American Libraries 40(1-2), 44. (note that the preprint version is edited significantly from the version as published).
Nicholson, S. (2009). Go Back to Start: Gathering Baseline Data about Gaming in Libraries. Library Review. 58(3), 203214.
Nicholson, S. (2008). Games in Libraries: Myths and Realities. NYLA Bulletin 56(4), 3.
Nicholson, S. (2008, August). Reframing gaming. American Libraries. 50-51.
Nicholson, S. (2008). Modern board games: Its not a Monopoly any more. Library Technology Reports 44(3). 8-10, 38-39.
Nicholson, Scott. (2008). Finish your games so you can start your schoolwork: A look at gaming in school libraries. Library Media Connection 26(5), 52-55.
Nicholson, S. (2007). The Role of Gaming in Libraries: Taking the Pulse. White paper.
Games in Libraries Podcast
The Games in Libraries podcast ran from 2008-2010. The archives of the Games in Libraries podcast can still be found in iTunes and individual entries for each podcast entry are in the Games in Libraries Podcast Blog below.
Permalink Comments off