All of the Sessions in order
This course inspired my book, Everyone Plays at the Library, where I took the content below and expanded upon it. So, if you want the complete package (and want to support me in my efforts), please purchase a copy of my book: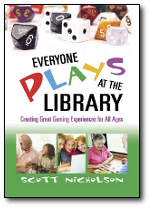 from the publisher, Information Today, at
http://infotoday.stores.yahoo.net/everyone-plays-at-the-library.html

Here is a YouTube Playlist that should play all of the videos in order:
If you want to see everything in order, here's a master list. If there isn't a link, that means it's not up yet!
Episode 1 – Introduction to Scott and the Course
Episode 2 – What are Games?
Episode 3 – Analog Games
Episode 4 – Digital Games
Episode 5 – Hybrid Games
Guest Speaker Terri Kirk on School Libraries
Guest Speaker Paul Waelchli on ACRL's standards and gaming
Episode 6 – Library/Game Interactions
Episode 7 – A Brief History
Episode 8 – Surveys about Gaming in Libraries
Episode 9 – A Conceptual Framework for the Library Gaming Experience
Episode 10 – Five Gaming Experience Archetypes
Guest Speaker East Flagstaff Public Library
Guest Speaker Paul Waelchli on Fantasy Football
Episode 11 – Knowledge Game Experiences
Episode 12 – Strategy Game Experiences
Episode 13 – Action Game Experiences
Episode 14 – Narrative Game Experiences
Episode 15 – Social Game Experiences
Guest Speaker Kelly Czarnecki on Geocaching
Guest Speaker Eli Neiburger on Video Game Tournaments
Episode 16 – Selecting Games
Episode 17 – Marketing and Partnerships
Guest Speaker Allan Kleiman on Gaming and Older Adults
Episode 18 – Building a Game Collection
Episode 19 – Running the Gaming Program
Episode 20 – Assessment
Guest Speaker Beth Gallaway on Reader's Advisory for Gamers
Guest Speaker Paul Waelchli on Using Forms of Gaming Education for Information Literacy
Episode 21 – Concerns about Gaming
Episode 22 – Conclusions and Keeping Up